The Derbyshire Dales town of Bakewell is synonymous with Bakewell Pudding. Not the Bakewell Tarts or Mr Kipling's Bakewell Slices. Those tasty morsels do take their name from Bakewell. The original pudding, though, is very different to those. However, I am not writing about food today!
Bakewell, Derbyshire
While researching the town of Bakewell, I came across a story I had to share with you. Before I do, let me tell you a little about Bakewell, and then I will get into this most intriguing story. 
Bakewell is a small town with many houses and shops built in Derbyshire stone. The population is under 4000. The shallow River Wye flows through it and is popular with tourists who come not just for the Bakewell Pudding but to take in the area's scenery and enjoy the hospitality this town offers. It's a pleasant walk along the river through the town, and there are plenty of seats. As I walked along this area, several large trout and the proverbial collection of ducks were to be seen.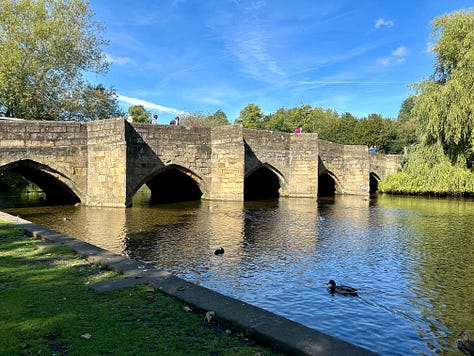 You will find plenty of people in the town if you visit on a Monday, as that is market day when the farmers bring their livestock and other traders sell a variety of wares.  
The oldest bridge across the river is on the northeast side of the town and dates to 1664, and it still carries a great deal of modern traffic across it.  See the photo above.
Our story, though, came to light when I was looking for information about the church. This led me to investigate the story of a 14th-century gang terrorising the wealthy. They were very much the equivalent of the Mafia. Murder, extortion, kidnap, protection rackets and theft were all in their lawless toolbox. 
The beating of the vicar of All Saints' Church started my quest for more information. Let's see what happened to the vicar and discover more about the gang involved. 
Keep reading with a 7-day free trial
Subscribe to Roland's Travels to keep reading this post and get 7 days of free access to the full post archives.