Discover more from Roland's Travels
Join me as I discover places around the UK, meet people, tell stories and relate history. Read the accounts and enjoy the photos. Plus a podcast. Subscribe today!
On September 10th 1663, King Charles ll, along with Catherine, his Queen, rode through this village. Another royal visitor over one hundred years later, on September 15th 1789, also passed through. This time it was King George lll and Queen Charlotte, along with three princesses, on their way to Longleat House. Today, I am in a Somerset village with a rich history and relatively unscathed from modernisation. This is the village of Beckington, lying about three miles to the north of Frome.
Since 1989 Beckington has benefited from a bypass. The huge amount of traffic on the A36 used to clog up this pretty village but now, apart from a few local vehicles is quiet. The downside to a bypass is a common one, the shops that were once here have now closed, leaving just one deli/cafe, the popular Mes Amis. There are two pubs, The Foresters Arms on Goose Street and The Woolpack on the corner of Warminster Road, originally built in 1591.
The History of Beckington
In the Domesday Book (1086), Beckington is recorded as being held by Roger Bushell and taxed at ten hides, suggesting that it was around 1200 acres of cultivated land. It was a significant centre of the wool trade during the medieval period. By the 15th century, fulling mills had been built along the banks of the River Frome, producing a spinning and weaving cottage industry for the village. As in many weaving areas, trouble would come in the form of riots and in September 1766, rioters marched to Beckington and set the mill and other properties on fire. England had much civil unrest during this period as machines started replacing workers. The mill was saved but eventually would close as cheap imports brought an end to the processing of wool and the manufacture of woollen goods. A story often repeated right up to today as globalisation moves production from one country to another.
I like how Beckington is built into several hillsides, and the fine old buildings give testimony to a time of wealthy folks who made their fortune from wool. The Wool Merchants House on Bath Road, built in 1653, is one fine example of this. This is a home you can stay at as it is a holiday let and has a beautiful private garden and heated outdoor swimming pool included. This road contains many similar houses of those former industrialists and are now preserved for all to see.
Carrots: A First for Beckington and England!
Here's an interesting trivia question for you. Where were carrots first grown in England?
Read on!
In his book, Brief Lives, John Aubrey 1626-1697 noted that carrots were first sown in Beckington. He wrote, "some very old man there (1686) did remember their first being hither".
Beckington Castle
There is in Church Street a building known as Beckington Castle. It's not an actual castle but has some castellations giving it a castle-like appearance in parts. It was built by the early 17th century on the site of an earlier medieval building by William Long, clothier and patron of Beckington Church. Sometime before 1616, it was sold to James Ley, the First Earl of Marlborough.
Several local merchants owned it in the 18th century. From the 1780s until 1870, it was owned by the Chislett family, and it was sold for £450. In 1839 it became known as Castle House and later, as it is called today, Beckington Castle. Between 1945-1970 it was a boarding school called Ravenscroft. It has had several uses, including a hotel and an antiques showroom. In 1989 when in very poor condition, it was purchased by the present owners, Systems Engineering and Assessment Ltd. Between 1995/96, it was restored in cooperation with Mendip Council, and it appears now in excellent condition, saved for future generations to admire.
The Wool Hall, Beckington
Nestled next door to Beckington Castle is the 16th-century Wool Hall. It was used in the 1980s as a recording studio for the well-known group from nearby Bath, Tears for Fears. Many artists, including The Smiths and Van Morrison, used the studio. It closed in 2004 and is now a private studio.
Church of St George, Beckington
With its rural views, the Church of St George is of Norman origin, possibly Saxon. The tower is Norman, and the remainder of the church is of 14th-century construction. Records go back to 1411 when the first recorded rector Matrin de Sutton was installed.
Beckington was rather late in getting piped water. For years, residents objected to being supplied mains water and relied on springs and the village pumps. There are still two pumps to see, one next to the church and the other along Warminster Road. It was in 1939 that finally, the village received piped water as the residents decided that their water supplies were not as clean as they once were.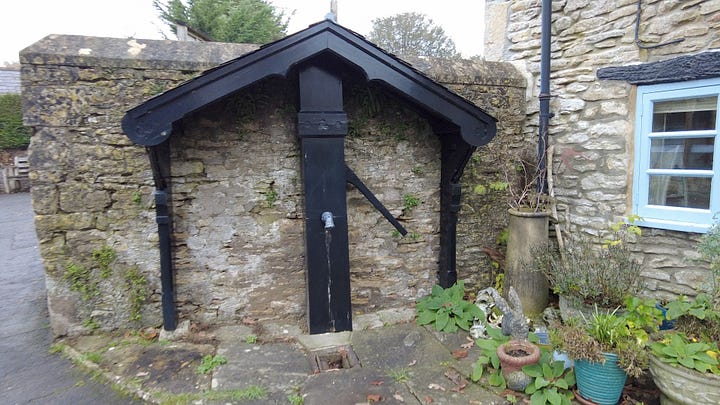 The cottages along Church Street date from around 1720 and give real character to this area. The school opposite was built in 1852 and is still in use, made clear by the children's voices from the playground. This is one village I will never tire of walking around and taking in the atmosphere of such a historic place with its fine buildings. You can see more in the video I made of my walk around Beckington on my YouTube Channel.
Seymours Court, Beckington
I didn't visit Seymours Court on  Rudge Lane, just outside the village on the other side of the bypass. It's worth a mention This house dates from the 15th century. It was the home of Thomas Seymour, the 1st Baron Seymour of Sudeley, a bother of Jane Seymour and who married Queen Catherine Parr after Henry Vlll's death. Thomas became her fourth husband of Catherine, making her the most-married English Queen. She died not long after the marriage due to complications in childbirth. An interesting story and Seymours Court offers Bed & Breakfast and a wedding venue, so if you want to see what it is like living there, you can. You can see what it looks like on their website.
Thank you for taking the time to read about Beckington. I have some great stories to research and relate to you coming up soon. Please become a subscriber, and don't forget to download the Substack app (link above). It has some excellent features that add more benefits to Roland's Travels.
How to Support Roland's Travels
There are several ways you can support me and this newsletter:
1 If you wish, you can show your support for what I do through Buy Me a Coffee. However, I'll probably end up buying tea or petrol.
I understand that not everyone who would like to will be in a position to support in this way, and that's fine! My content is available to everyone, regardless of their circumstances.
2. Please subscribe.
3. Share Roland's Travels with your friends and on your social media channels.
Thanks for reading Roland's Travels! Subscribe for free to receive new posts and support my work.