Discover more from Roland's Travels
Join me as I discover places around the UK, meet people, tell stories and relate history. Read the accounts and enjoy the photos. Plus a podcast. Subscribe today!
I am not one of those people who 'lives to shop'. My idea of shopping is usually www. - click - pay - receive. On this occasion, though, a visit to Clarks Village Shopping Centre made me look at shopping in a different light. I visited the centre many years ago, but I must say it's now much improved and has an excellent range of shops. It was opened in 1993. The shopping centre is designed as a village rather than the usual malls we are all used to. This means you are outside when you walk between shops. It was a rainy day on and off, but it is possible to walk under cover unless you crossed walkways to shops on the opposite side. There are over 90 designer and high street brands represented at Clarks Village Shopping Centre at Street in Somerset.
Click on a photo for the full image.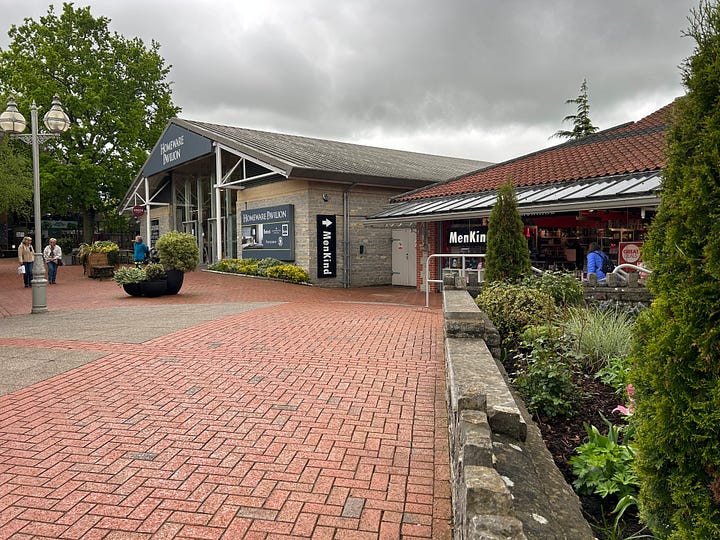 Car parking is plentiful and costs £3.00 for 5 hours (other periods are available). You can use the PayByPhone app, coins or card. I had trouble with the app and resorted to a debit card.
Clarks Village is on the site of Clarks Shoe Factory, which once dominated the town of Street, and now has most of its products made overseas, mainly in Asia. I remember many years ago that the High Street was full of shoe shops to capitalise on shoppers wishing to buy shoes in a town associated with shoe manufacturing. Fortunately for Street, the shopping centre leads onto the High Street and rather than detract from the town's centre as many retail parks do, it brings people to it.
There are plenty of places to eat, and we (that's me, Mrs M and my mum) chose the Cornish Bakery and thoroughly enjoyed a traditional Cornish Pasty for lunch. They do offer some interesting pasties if you wish to move away from the traditional filling. See my article about the Cornish Pasty and recipe.
---
---
Marks & Spencer and Next have an outlet store where they greatly reduce the price of some items. It goes without saying that you are able to buy Clarks Shoes. Some stores are relatively small, such as Le Creuset, which I admired for its colourful display of pans and kitchenware. Have you ever lifted a Le Creuset pan? If you do regularly, you can skip weight training at the gym. The cast iron weighs a lot and is so well made that it will outlive the cook!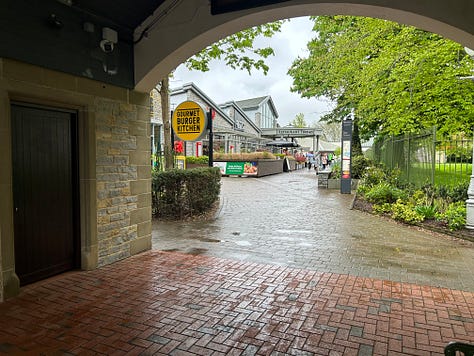 Shopping at Clarks Village is more relaxing than on a busy high street with traffic or in an enclosed mall. There are green spaces, places to sit and even a table tennis table and table football to keep the kids amused. For longer periods of amusement, the village, in 2017, opened Kings Arthur's Forest Adventure Play Park.
There were very few empty units which is unusual when compared to many shopping malls that I have seen in recent years. If you are looking to open a shop in the area, it may be worth considering what is available.
Here's a link to the Clarks Village website.
Thank you for reading Roland's Travels. If you're not a subscriber, please add your email address below to receive each new article direct to your inbox or read on the free Substack app.
Thanks for reading Roland's Travels! Subscribe for free to receive new posts and support my work.