Discover more from Roland's Travels
Join me as I discover places around the UK, meet people, tell stories and relate history. Read the accounts and enjoy the photos. Plus a podcast. Subscribe today!
Roland's Travels
I am due to retire in September 2022 and the way that time seems to go quickly, it won't be too long.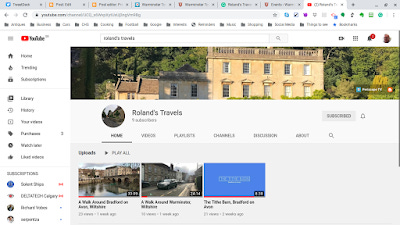 With this in mind, I have started a YouTube Channel, Roland's Travels. The channel will encompass things I like and enjoy. I love history, old buildings, the countryside and nature. My passion is to share this with others, and I like live streaming and making videos. This combination has led me to create this channel and to film such subjects.
I intend to visit as many places as possible before retiring so that I can already have a good catalogue of videos before I concentrate more time when available.
Starting locally
With the Covid19 pandemic, this means that I will film close to where I live in Wiltshire. However, although this is geographically restrictive, there is a vast amount of subject matter right on my doorstep.
There are many lovely old towns within easy reach. Bradford on Avon is one such town and is where I have already done some live-streaming. You can watch a couple of my videos from my live streams around Bradford on Avon on the channel.
It is early days for the channel, but I hope you will subscribe and share with others so that I can create videos that many will enjoy watching. If there are any places you would like me to film in Wiltshire, please let me know in the comments below, and if they are not already on my to-do list, I will consider adding them to it.