St Laurence Church, Bradford on Avon
A Saxon Church over 1000 years old!
Britain has many old buildings and churches. Very few buildings, though, are still in use which were built in Saxon times. In the Wiltshire market town of Bradford on Avon, we can find one such Saxon building. It is the Church of St. Laurence.
The exact date of construction is not known, but it is most likely around 1000 A.D. The style of construction and historical records have led many historians to arrive at that date. It is well preserved and a remarkable survivor, unlike many other churches from that period. The church is dedicated to St. Laurence, one of seven deacons martyred in Rome in 258 A.D. at the behest of the Roman Emperor, Valerian. It is small and yet tall in comparison to its width and length. The nave is 7.5 metres (25 ft) long and just over 4 m (13 ft) wide. The height of the building is approximately 8 m (26 ft) inside the nave.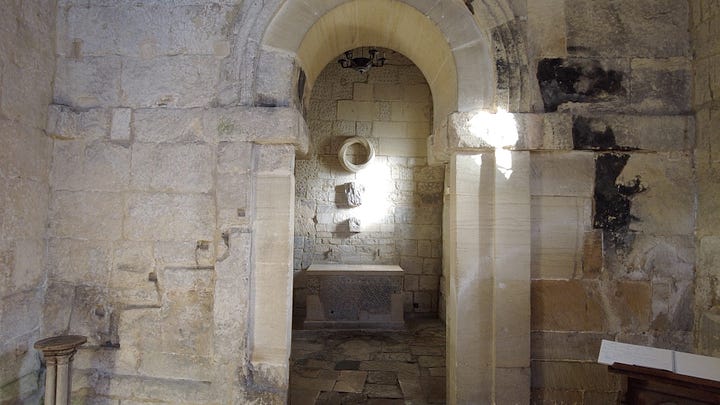 When you look at the opening photo of the south face of the church, you can see that there used to be a south porticus, which would have matched the one on the north side to create the traditional cross-shaped church layout. The buttresses on the front were added in Victorian times. It's a wonder that is all they did! The Victorians were dab hands at renovating anything they got their hands on.
What appears to be blocked-up windows are what is known as blind arcading. They have never been windows and are simply a design feature.
The church became 'lost' because it was used for other purposes. During the 1800s, it became a boys' school. The nave was used as the school and the chancel as the master's cottage. A second floor was added in the nave, and the cottage was made a three-storey home. Inside the nave are blackened wall areas caused by cooking in the kitchen.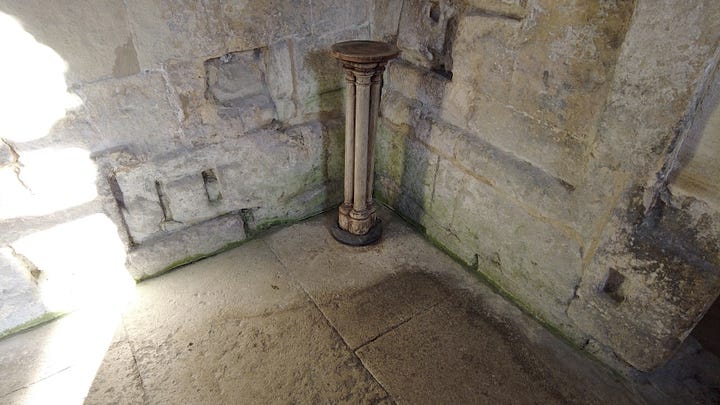 In 1856, the Saxon Church was rediscovered by the rector of the nearby Holy Trinity Church, William Jones. Jones was an antiquarian and author. He took note of the church's design and recognised it as more than a school building. The church was restored as much as possible to its original state between 1870 and 1880. The altar and other objects were found and are on display today.
The Church of St Laurence is still in occasional use, which is now over 1000 years since it was built. Bradford on Avon has an incredible number of old buildings, and I will be telling you more about them in future articles, so do subscribe to ensure you don't miss them.
Please click the heart button and leave a comment if you wish. It helps more people find Roland's Travels.
Thanks for reading Roland's Travels! Subscribe for free to receive new posts and support my work.