Visit Hillbrush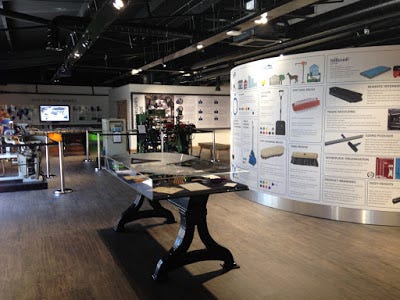 I am always looking for interesting places to visit and was pleased to discover Hillbrush, Mere in Wiltshire.
Hillbrush - Brush Manufacturers
Hillbrush is a brush manufacturer established in the lovely little town of Mere in 1922. They have recently built a new factory and visitor centre, which includes a restaurant, quality gift shop, artisan coffee bar and museum. There is also a south facing terrace where on a day with good weather you can eat outside and dogs are welcome in this area. Admission is free and there is free parking and free charging for electric cars.
Perhaps we all take brushes for granted but they are a vital part of everyday life and every home must contain dozens of different types of brushes for many different purposes. Stop and think for a moment as to how many you might have! The visitor area and museum will show you some of the types of brushes we use and how they are made today and in the past.
It's encouraging to see that a manufacturing business in the UK is doing well and has not been relocated to China or some other distant part of the world. The company founded by Fred and Bill Coward in 1922 has grown over the years and although originally they specialised in the production of dairy and agricultural brushes soon moved into making sweeping brushes. Many of the streets in the UK were then being swept clean by brushes made by Hillbrush in Mere. Today, Hillbrush manufacture many specialist brushes for the food production and catering industry.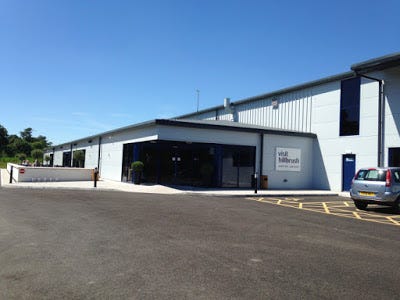 With the building of the new factory, I think that it was a really good idea to open the restaurant and visitor centre. The food in the restaurant is locally sourced and is of excellent quality. The restaurant has a 5 Star Food Hygiene rating which you might have guessed if you visited without seeing that fact in print. The staff are very well trained, enthusiastic and a pleasure to be served by.
I really enjoyed eating here and the food is well presented and good value. There are options for vegetarians, gluten-free and a kids menu. What did I eat? For me it was the Somerset Beef Burger in a Brioche Bun with French Fries and Coleslaw, followed by Warm Chocolate Brownie and Ice Cream. It was excellent! Here is a link to the restaurant page on the website so you can take a look at what Visit Hillbrush is offering customers to whet your appetite.
I hope that you will take a trip to Visit Hillbrush when you are in the area, it's not far from the A303 passing through Wiltshire so makes an ideal resting point if you take the Mere turn off. Hillbrush is also close to The National Trust's Stourhead House & Gardens which is a beautiful place to visit. For more information here is a link to a post that I have written. Click here.
If you have any comments please leave them in the box below and do subscribe to this blog to be notified of future posts.